A Creative Tool for Artists, Crafters and Production Workers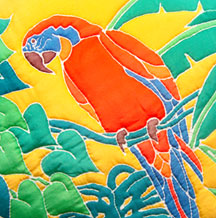 The AirPen® Color Dispenser is a hand held, air-powered tool for drawing very fine decorative details or for filling intricate areas. Paints, glues, ceramic glazes, and other viscous mediums are effortlessly dispensed by placing a finger over the flow control hole. Anti-gravity piston "followers" allow you to work on a vertical surface. The patented product is drip-free and supplied with a 110V air pump.
 
With the AirPen Color Dispenser, you can:
• Draw long flowing lines and fine details without squeeze bottles, or brushes
• Draw fine lines with thick mediums
• Dispense paints, glues, and more
• Prevent hand fatigue often associated with the use of squeeze bottles
• Easily operate the AirPen Color Dispenser for time saving production of precision work
 
Each AirPen Color Dispenser housing features a patented venturi system for precise control of flow, and drip-free operation. Air bubbles, skips, and blobs are virtually eliminated. The AirPen Color Dispenser comes fully equipped, and is built for years of trouble-free use.
You can use the AirPen with:
craft paints
acrylics
enamels
oil paints
eggery

ceramic glazes
clay slip
underglazes
overglazes
china paint

liquid polymer clay
glues
adhesives
ink

henna designs
nail polish
latex
automotive paints

sealants
assembly fluids
model paints
liquid leading
The AirPen® Color Dispenser
The patented AirPen Color Dispenser is a hand held, air-powered tool for drawing fine decorative details or for filling intricate areas. Paints, glues, glazes, and other viscous mediums are effortlessly dispensed by placing a finger over the flow control hole. The AirPen® Color Dispenser includes anti-gravity "followers" which allow you to work on a vertical surface. All accessories are organized in a handy carry case. Larger photo here.

Accessories include:

14 Interchangeable applicator tips of assorted sizes for thick to thin lines

Plastic Taper: 14GA, 16GA, 18GA, 20GA (1 each)
Metal Tip: 25GA (2), 23GA (2), 22GA (1), 20GA (3), 18GA (1), 16GA (1)


Compressor with 6 ft air line; 100V thru 240V DC power adapter

5 cartridges

5 anti-gravity "followers"
5 red storage tips

Stainless steel "Puller" tool
Air shield for drop string applications

1 cleaning plunger
AirPen Color Dispenser trifold instructions brochure




| | |
| --- | --- |
| The AirPen® Color Dispenser $169.95 | |

Pick up beads, glass shards, and other intricate pieces too small for fingertips quickly and easily. Choose suction strength with the touch of a fingertip: four separate modes.

Accessories include:

Vacuum pump with finely controllable suction for even the most delicate of jobs
On/off switch
Airline
4 Suction tips





| | |
| --- | --- |
| Vacuum Pick-up Tool - $135.00 | |

A great companion tool for the AirPen! Easily and cleanly fill AirPen cartridges with glaze, slip, paint, and other mediums. A straw and vacuum tool do all the work so your hands stay clean of the contents. See video for instructions.

Includes:

Vacuum tool, with air tight gasket to seal entire cartridge
Two different size connectors that easily pair with off-the-shelf plastic straws
A selection of straws included with the tool as a starter

The AirPen Cartridge Filler - $24.00

Wire Puller Tool, Stainless Steel (1)
Followers (5)
End Plug for Cartridge, Red (5)
Tip Cap (5)
Cartridge (5)
Plunger (1)
Dispensing Tips (14)
Plastic Air Shield Disc (1)
37 pieces total

Plastic Taper Tips (1 ea): 14GA, 16GA, 18GA, 20GA
Metal Tips:

25GA (2)
23GA (2)
22GA (1)
20GA (3)
18GA (1)
16GA (1)

Note: The larger the gauge, the smaller the tip.
14 pieces total

Metal Tips:

30GA (2)
27GA (2)
25GA (3)
23GA (3)
22GA (2)
20GA (2)

Note: The larger the gauge, the smaller the tip.
14 pieces total

Plastic Taper Tips:

22GA (1)
20GA (1)
18GA (5)
16GA (3)
14GA (4)

Note: The larger the gauge, the smaller the tip.
14 pieces total

| | |
| --- | --- |
| Color Filling Tips - $15.00 | |
The AirPen™ is a patented product of Silkpaint Corporation (Patent No. 5579960)